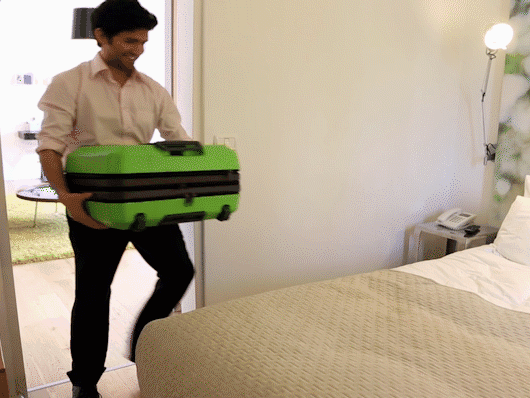 Fugu Luggage has introduced one revolutionary suitcase that will accomplish your all needs. You can use it from a carry-on to a full size check-in, as a closet, a table, and many more types.
This is a modern concept disclosed by Fugu team to reframe the traditional suitcase in a contemporary case named as Fugu Luggage that will fulfill the need of modern traveler.
Unique & Useful features of Fugu Luggage
Size & Dimensions: This is designed according to the standard airline size limitations, maximum regulation carry-on, and check-in size.
Strength and Stability: Fugu luggage is built from durable material, water resistant and the walls absorb shock to protect your items inside.
Put your belongings in Fugu Shelves: Yes, it can also works as shelves. You can enable the it into double storage units, can keep your all belongings clean & organize during the whole journey.
Use it as a Table when require: Fugu Luggage height and width gives you an extra advantage, you can use it as a portable table for multiple purpose.
Keep your Laptop in Fugu Case: Now, you don't need to carry your laptop case as a other luggage, you can use Fugu as a laptop case. Team has designed it to keep laptop with complete security.
Make it Vacuum Bags When Need: Vacuum bags are too easy to carry for travelers; this feature is also added in it to provide convenience.
Weight is too lighter: The overall weight is lighter than a standard suitcase, in a few hundred grams that is less than a pound.
Easily Movable: Its spinner wheels provide 360 degrees full circle rotation.
Save Storage Space: When it folds then it holds very small space in room, train, bus and aero plane. It saves storage as compare to traditional case.
Source: https://www.kickstarter.com/projects/1609691375/fugu-luggage-expandable-suitcase